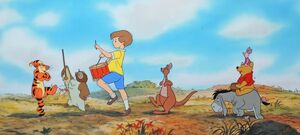 Hip Hip Pooh Ray is a song sung by Christopher Robin and the gang in Winnie the Pooh and the Blustery Day when they were celebrating the hero party.
Narrator: And so the hero party became a two hero party Pooh was a hero for saving Piglet's life and Piglet was a hero for giving Owl his grand home in the beech tree Everyone: Were gathered here today to eat some cake and say A Hip Hip Pooh-Ray For our heroes! 
Tigger: Hoo-Hoo-Hoo!
Everyone:  The stuff of which they're made Deserves a big parade. Come along and march behind the drum So we say Hip Hip Pooh Ray for the Piglet and the Pooh! Piglet and Pooh we salute you,
Gopher: What's all that singing and stomping and silly sinanagi-woooooaaaaaaah!
Everyone: For deeds of bravery and genrosity! Hip Hip Pooh Ray! Hip Hip Pooh Ray! Hip Hip Pooh Ray for Winnie the Pooh!
Piglet: And Piglet too.